DSB Technologies Driving Metal Binder Jetting into Production with X-Series Lineup
DSB Technologies (DSB), a leader in high-quality metal part production with sinter-based technologies such as powder metallurgy (PM) and metal injection molding (MIM) has now adopted the complete X-Series metal binder jetting product lineup, including Live Sinter software, from Desktop Metal.
DSB has adopted Desktop Metal's complete X-Series metal binder jetting lineup, along with Live SinterTM simulation and correction software, at its Wisconsin headquarters, which processes more than eight million pounds of powder into parts annually with both traditional and additive technologies
The X-Series line from Desktop Metal features Triple Advanced Compaction Technology (ACT) and includes the entry-level InnoventX, midsized X25Pro and extra-large X160Pro

DSB says that Desktop Metal's Live Sinter software is a critical, trusted element of its metal binder jetting package. The powerful multi-physics simulation tool predicts and corrects for sintering deformation, delivering sinter-ready printable geometries in minutes

Desktop Metal is the world's leader in metal binder jetting with six printer models offering different sizes and capabilities, as well as the world's largest portfolio of 21 metal materials, including stainless steels, precious metals, titanium, aluminum and more

Aside from the X-Series, DM's metal binder jet lineup also includes the entry-level Shop System, the P-1 research and development printer, and the Production System P-50 the world's fastest metal binder jetting system, offering the lowest unit cost in binder jetting
Read the complete press release for full details.
Scaling metal 3D printing to serial production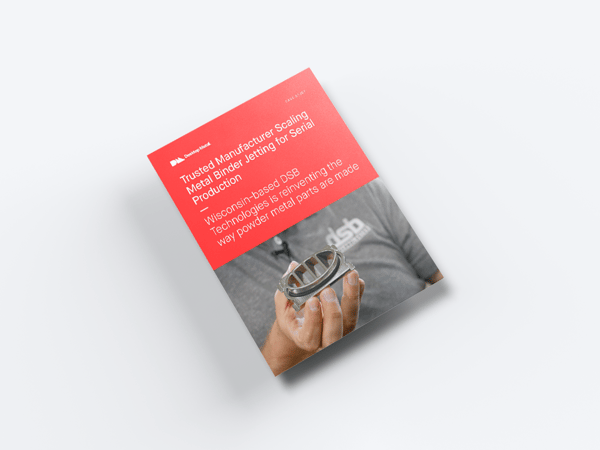 Wisconsin-based DSB Technologies is reinventing the way powder metal parts are made by investing in transformative technologies like binder jet 3D printing. Processing over eight million pounds of metal powder each year – including over 7 million pounds of stainless steel materials, the company is a market leader in the mass production of powder metal components. This expertise in serial production using compaction and press technology and metal injection molding optimized for stainless steel affords the DSB team a deep understanding of the science of high-temperature sintering to obtain top-quality material properties.